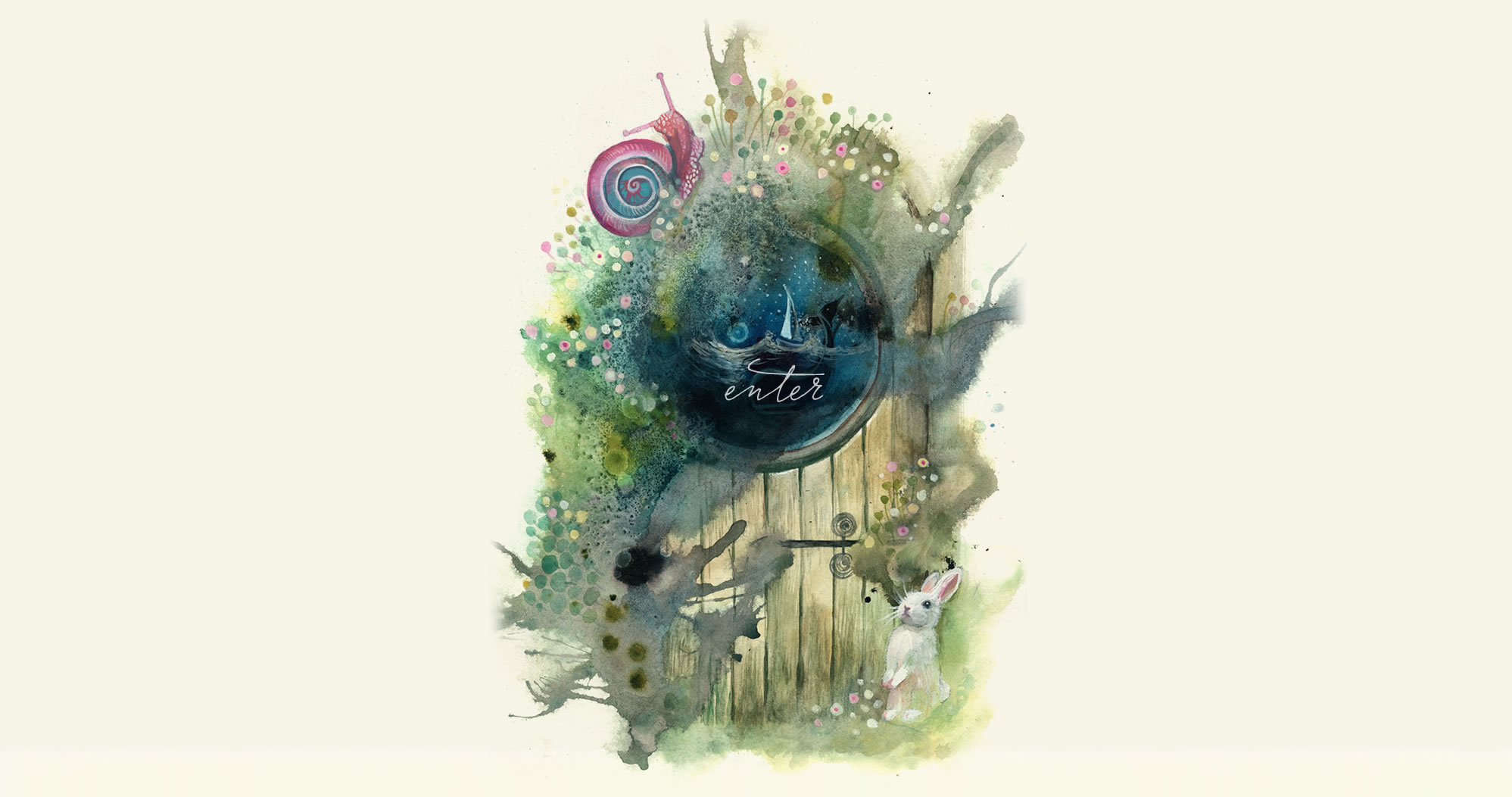 Quick Guide To The Expedition :

Are you yearning to make the kind of beautifully expressive, deeply original art you admire but can't seem to make that magic happen?
Everyone says art-making is all about showing up and going through the motions, but deep down you wonder if there is more  you can do to create your dream work.
---
Want to join me to find out what it is?
---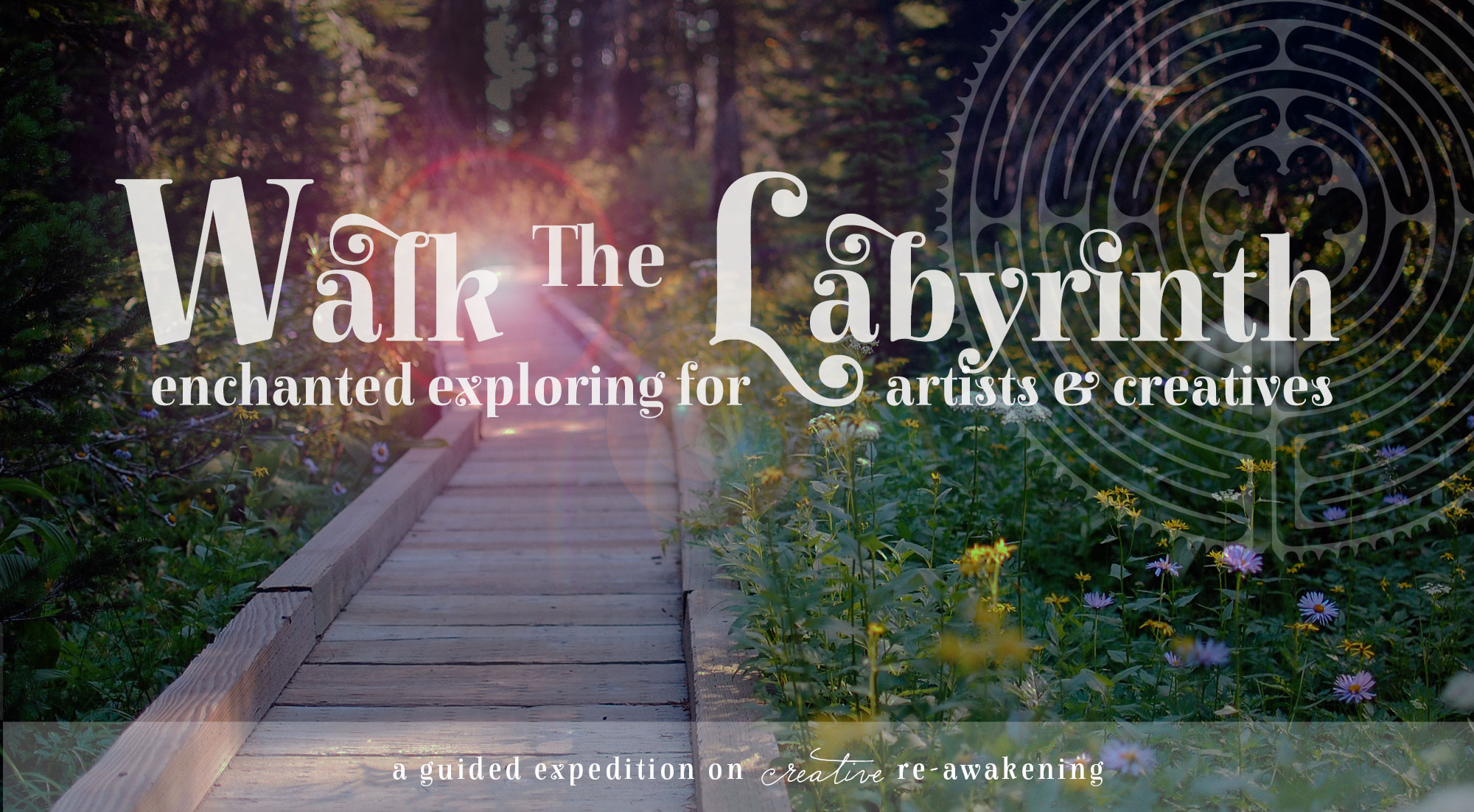 ---
A Hidden Path to Inspiration
---

---
Imagine feeling so alive that your creative cup is overflowing for the first time in a very long while. You're excited to be in the studio, fingers flying to catch up with your ideas, creating passionately and consistently.

---
Instead of feeling shy about your art every time you're on Instagram or Pinterest, you're confident and excited about your own ideas and unique way of creating.
And if you ever find yourself stuck it's less about overcoming weariness, fear or resistance and more about this:

---
You see, showing up everyday and going through the motions isn't enough to create great work. We can't dream up inspiration out of thin air.
So pause and consider what it could mean if your life made your art wonderfully inevitable.

---
And then close your eyes and imagine this:
What if you found a secret door to a magical creative life that allows the art to find you?
What if exploring it reveals exactly what you need to do to get in creative flow, no matter what dimmed the fire?
How would it feel if you knew, without a doubt, that you could visit it anytime you feel blocked or out of love with your art, over and over again, for the rest of your life??
How would this change your creative process and the way you work towards your artistic dreams?
Imagine, you'd no longer be shackled to creative happenstance! You can work from a place of inspiration whenever you want, wherever you want, on your own terms. And you never have to lose this place, for as long as you live and create.
Even if you get stuck or when life interferes, you feel safe walking away knowing that all the inspiration and excitement would be waiting when you return.

---
---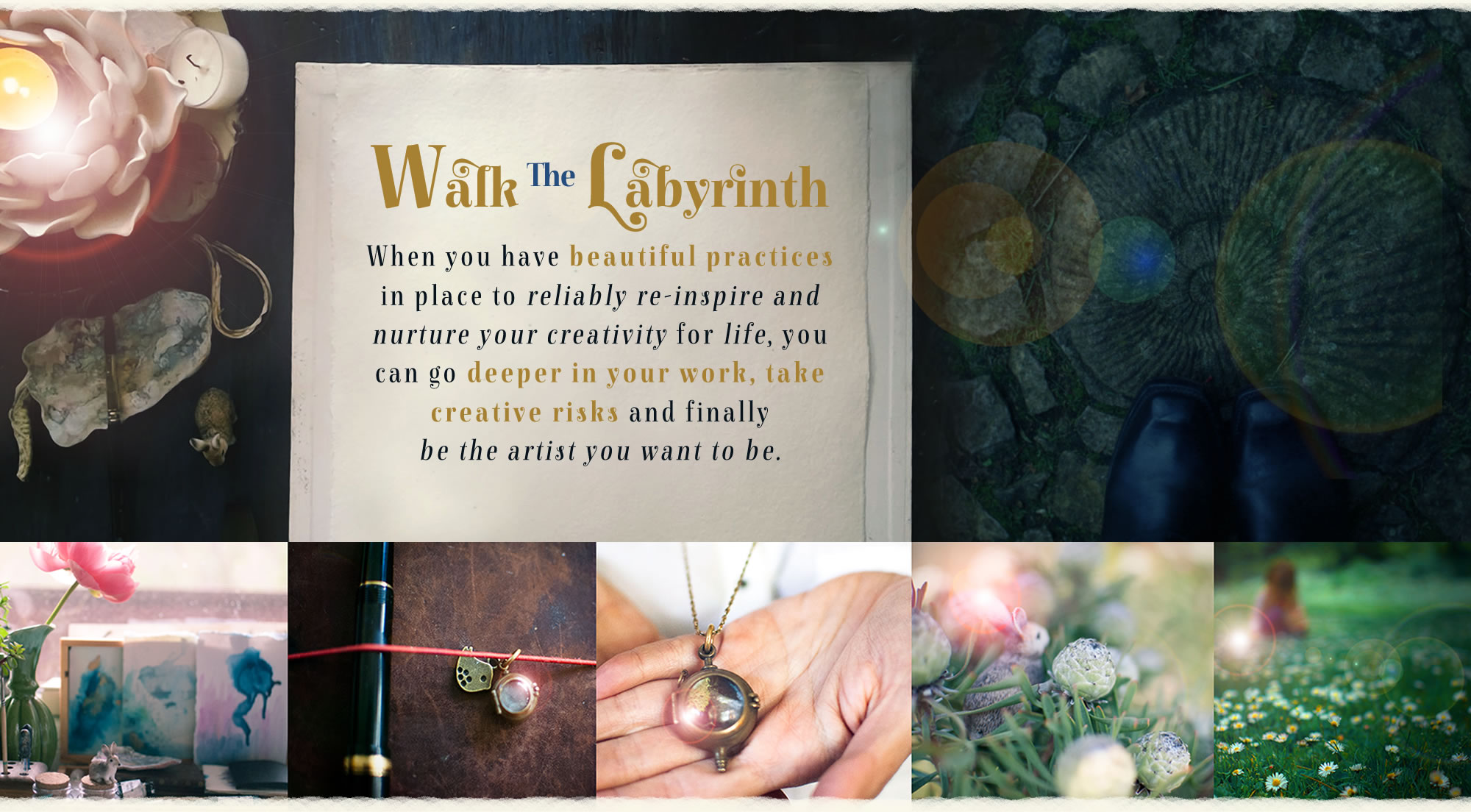 Amy and Walk the Labyrinth has captured my concerns and needs as an artist better than we could have done ourselves. And what does anyone want more than being seen and understood?
The individual attention and mentorship was so personal and insightful! I know it will help me tremendously, in more ways than creating art and from the bottom of my heart, thank you for creating this! Most online courses/workshops, however good, don't offer this closeness. This is such a beautiful offering. The content is magical, and so is the detailed art in our materials. Wow! Please, feel the difference of intention and energy when I say these simple words: Thank you! 

-Valerie Marsh, Life & Creativity Coach, 'Walk The Labyrinth' alumnae.

Amy's Story
---

---

I became convinced I wasn't really an artist because I had nothing important or interesting to say. I didn't realize that the artist life is consciously cultivated, that in order to take a stand with my art, I had to first live that life.
It took me years to realize that what I seek out and surround myself with, shaped the lens I viewed the world through, the very lens I make art with.
I created the Labyrinth of Enchantment because I was bursting inside to make richer, more evocative work. And to do that I knew I had to deepen not only what I know of myself, but how I was nourishing my artist's soul on a daily basis.
Discovering how to Walk the Labyrinth cracked open my world and forever changed my relationship with my creativity ; it answered questions I've been pondering forever and I want that for you :

---

---
What makes you come alive?

When I signed up, I was hoping mainly to get out of my creative rut and be inspired. I can honestly say that I am blown away by what your course has done for me!
Gosh, I don't even know where to begin in terms of my gratitude for the lovely soul who is Amy Won! I've taken a number of online courses, but none compare to Walk the Labyrinth. I have rediscovered my favorite materials to play with, dug more deeply into what my heart really wants to create right now, found a group of kindred spirits, and have felt like a kid at Christmas waiting for the next gorgeous, thought-provoking, and enchanted videos and workbooks to arrive! You are a natural teacher, and your passion for us to discover, learn, create AND have a wonderful template to use for the rest of our lives = priceless. 

-Carroll Piper, Artist & Floral Designer, 'Walk The Labyrinth' alumnae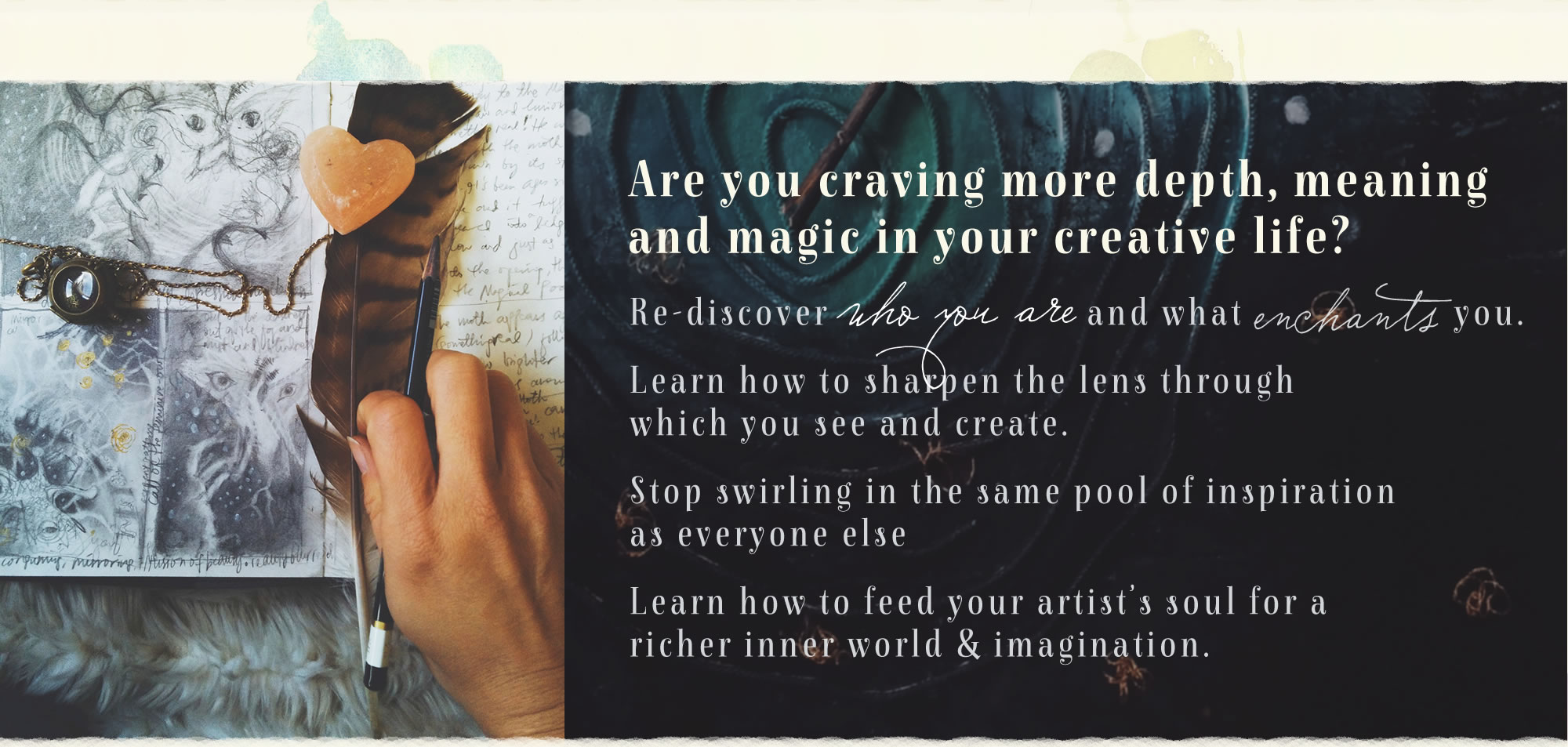 ---
The Benefits
---

---
By 'Walking the Labyrinth' in a deeper way during the Expedition, you'll be actively unearthing wonderful ways to work on your art every single day, even when you're not in the studio, especially when you're not in the studio.
You'll practice trusting your own creative rhythm, how to create even when you're stuck, and what you can do to maintain focus on a project without getting bored.
It's not an e-course to take and forget, 'Walking the Labyrinth' is about the real work that goes on behind art-making-a lifelong practice of finding yourself over and over.
Each time you Walk the Labyrinth you'll emerge with a stronger sense of self, radiant with conviction and confidence in your own ideas and processes. You'll never be tempted again to make art that's not true to you.

---
Through guided activities and Adventure emails, you'll craft your own unique way of keeping your artist's soul sacred, to guard what to let in and what to keep out.
And if your world is feeling a little narrow, 'Walk the Labyrinth : The Expedition' opens you up to the intertwining strolls of your fellow Explorers through Gatherings and Adventure Shares, giving you the excitement and courage needed to leave the safety of your studio (and screens) and explore the real world, where true inspiration lies.
But most importantly, you'll create beautiful, lasting practices that allow you to go deep with the ideas you already have, so that they bloom into transcendent, inspiring work that can only come from you.
"We can't find inspiration in a void. We must be actively looking, receiving, studying, copying, trying, putting on other coats. Keep making. It's not that we only find ourselves once and never do it again. We do it over and over."
-Rebecca Guay, Fine Artist & Magic The Gathering Illustrator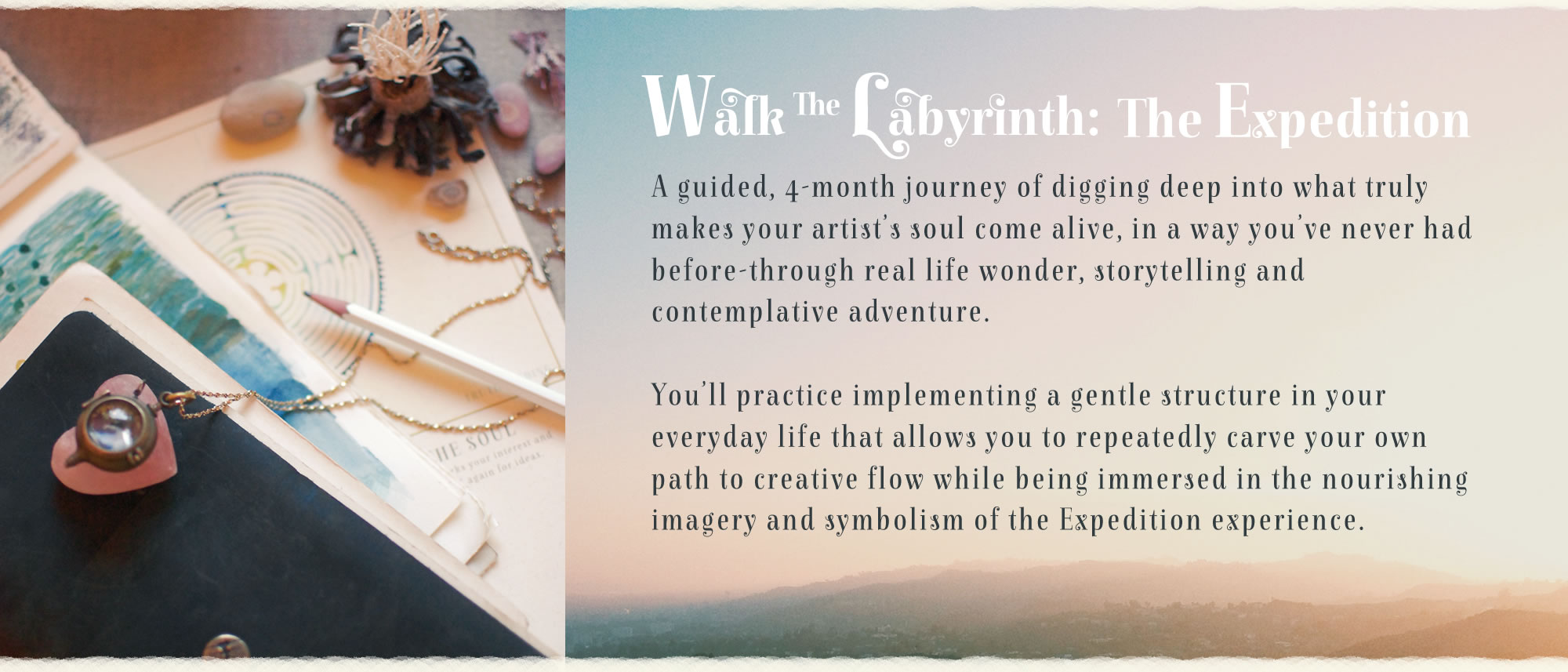 ---
---
What Your Journey Includes

---

Lifelong Portal into the Labyrinth of Enchantment™
Play in the Labyrinth anytime.
Expedition Explorers can access hidden Labyrinth passageways and treasures (including all new goodies to come) over and over again (as long as it exists).
Gatherings for Creative Kinship & Mentoring

12 Weeks of Video Gatherings + Workshops themed around the Activity Books, with me & fellow explorers-enough time for lots of personalized attention on unstucking, finishing a Heart Project or re-discovering your truest creative self.

Adventure Check-Ins for Gentle Structure & Support

16 Weeks of Facebook Check-ins + Ask-Me-Anything Q&A in a circle of kindred explorer spirits to share and refine your creative journey, get encouragement and exchange discoveries.



Story Videos for
Contemplation & Inspiration

Immersive Story Videos (9 so far) walking you through the metaphorical Labyrinth world for creative contemplation and idea-sparking. (The Story Video library is ever-growing! )




Activity Workshops for Playing & Exploring

18 (and growing) beautifully-detailed full-color Activity Books with Audio Guides + Explorer Tools filled with wonder-seeking prompts and fun ideas designed to help you customize your own creative journey.

Are you ready to adventure?
The Ship of Adventures has sailed for 2017.
Enter your email below to receive an Invitation when the Expedition happens again:
---
---

There are 8 Lessons Weeks spread out over 16 weeks, with Adventure Weeks in between for exploring and contemplation.
A Tentative Schedule of Adventures
A New Moon Embarking Ritual
Sunday 26th February 2017
Part I of The Expedition
27th February to 26th March 2017
Part II of The Expedition
27th March to 14th May 2017
Part III of The Expedition
15th May to 23rd June (New Moon) 2017(

PART I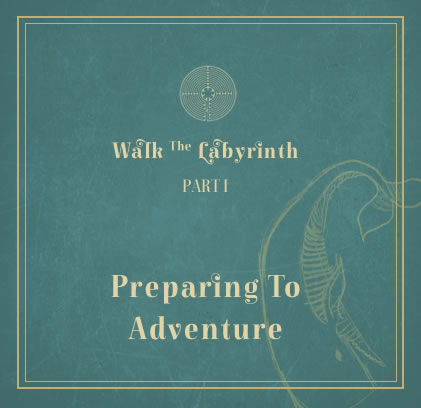 Before any expedition, know where to return to if you're ever lost.
Lesson Week 1: Dialing Into Your Heart Compass
Establish your home-heart base by getting reacquainted with who you are, what matters to you and where you'd like to go, so you can easily stay anchored and shut out a noisy world.
Lesson Week 2: Creating Your Explorer's Companion
Create your very own Explorer's Companion to guide you on your Walk. This will unlock unexpected, wonderful ways to feed your artist soul and yield deeper, richer experiences.
Length of Journey : 4 Weeks + 1 Embarking Ritual Week
PART II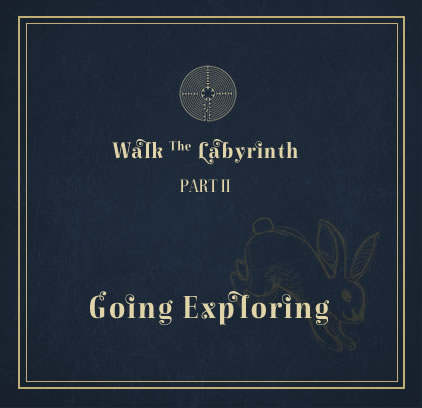 The Happy Wanderer. Roaming yet stable. Rooted yet free.
Lesson Weeks 3-5: Exploring the 4 Realms
You're ready to step out into the world! During these weeks we'll weave through the 4 Realms of the Labyrinth of Enchantment together and I'll show you how each realm affects your creative expression.
Length of Journey : 6 Weeks
PART III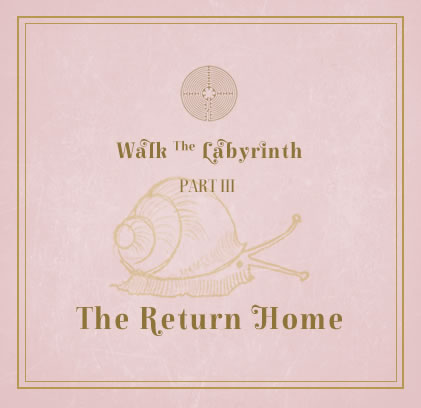 "Inspiration exists, but it must find you creating."-Picasso.
Lesson Week 6: Finding Rhythm & Creating Practice
You're back from your Walk bursting with ideas and renewed creative vigor. None of this matters if you're not creating consistently. We'll explore ways to do this in a way that respects the creative soul's need for both intuition and idea, structure and spontaneous play.
Length of Journey : 2 Weeks
---
Bonus Bridge Month : Preparing For Your Solo Journey
Bonus Lesson Weeks 7 & 8:
You're almost ready to set out on your own! This is a bonus month of implementation, support and special workshops to help you set sail on your own!
Length of Journey : 4 Weeks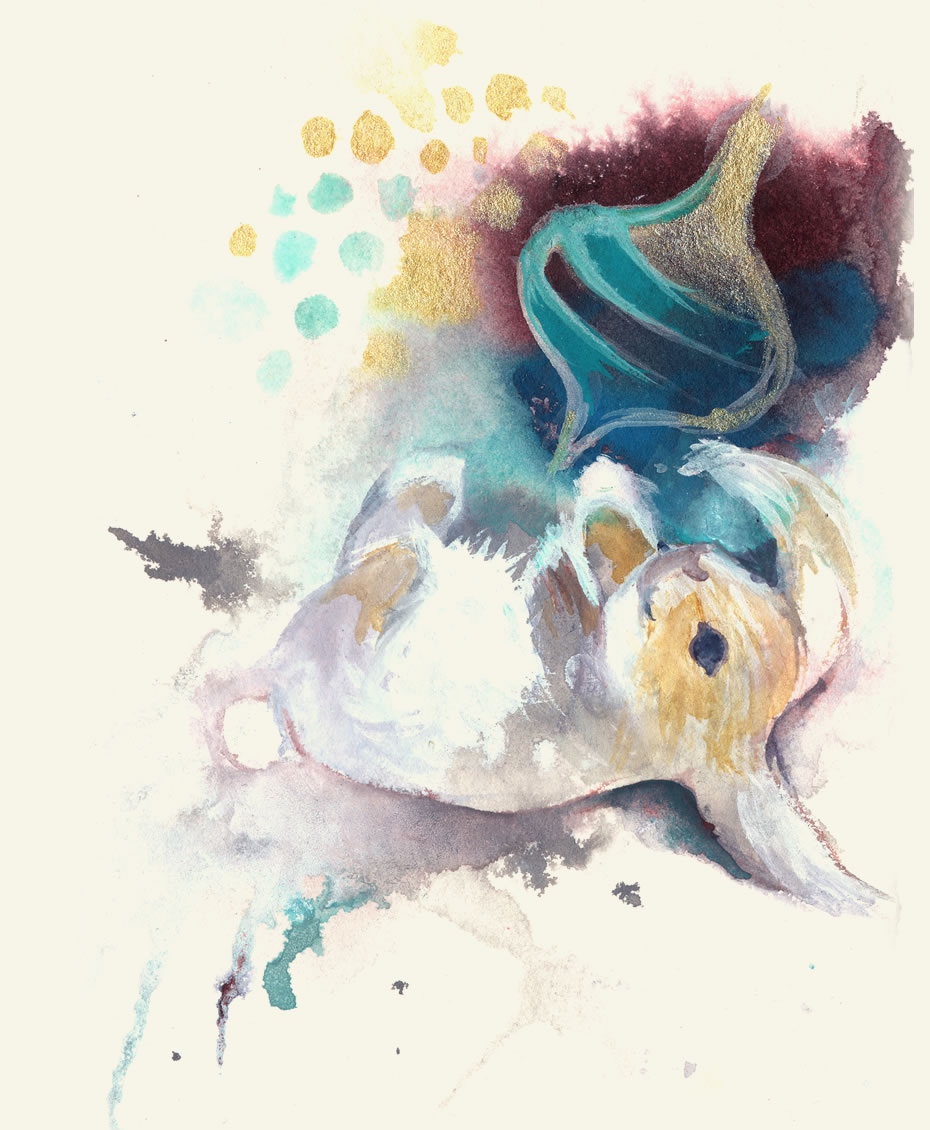 At the end of this 16-week wonder-filled adventure, you'll find that you've:
๑ Re-discovered your childlike sense of wonder and play.
๑ Unlocked a lifelong method of finding inspiration and staying creatively excited so you'll always know how to make every moment count, even creative blocks.
๑ Unearthed hidden truths about yourself, along with a clear and concrete plan for your next creative project that you feel truly excited about.
๑ Armed yourself with a substantial toolkit for navigating yourself out of your creative challenges.
๑ Emerged from a creative adventure with insights you might otherwise miss, from a mentor and fellow artist who've been through what you're going through.
๑ Made new friends and perhaps even found creative kindred spirits to share your artistic journey with, making you feel a lot less lonely and isolated.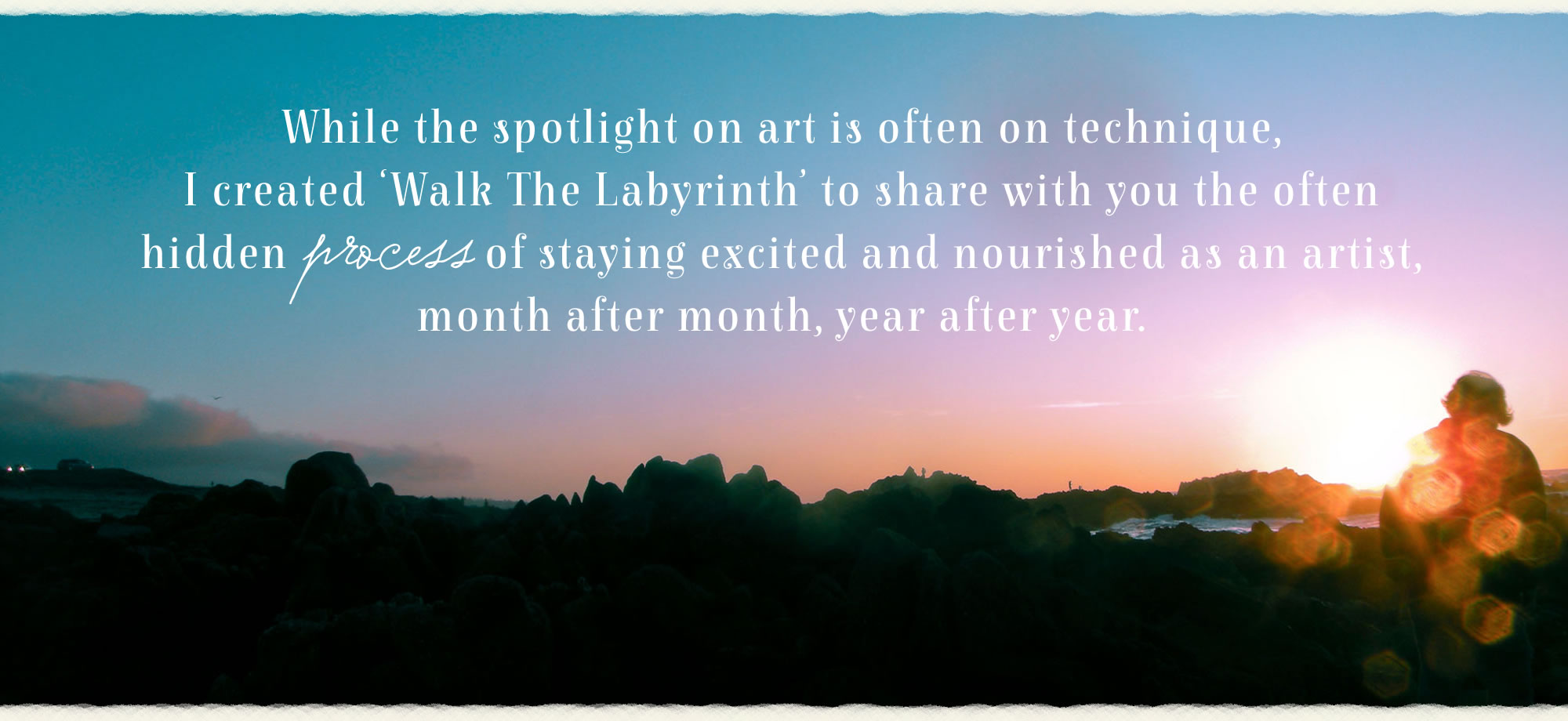 ---

 I'm rather excited that my childlike joy is coming to the surface in a noticeable way!
Reconnecting with the inner child is an incredibly powerful thing! Thank you for creating this space for us. This journey has been utterly magical so far, and your creativity and generosity of spirit is an inspiration. I'm also grateful for all of you women in the group. Thank you for sharing openly and being vulnerable about your creative process. 

-Jennifer Merrill, Stationery & Brand Designer, 'Walk The Labyrinth' Alumnae

---
Permission To Explore
---

---
Who should Walk the Labyrinth?
Writers. Painters. Makers. Designers. Illustrators. Photographers.
Architects. Life Coaches. Spirit Workers. Creative Souls.
SEASONED ARTISTS
You're a creative with a strong sense of self, but you've lost some of your early magic, it's become too routine and predictable. You want to re-invigorate your artist soul, replenish your inner reservoir and get fresh inspiration.
EMERGING ARTISTS
You're a creative but you don't yet feel a strong sense of self, so your creative practice is open-ended and your work scattered and lacks cohesion. You want to push your artistic expression but you're not sure how to get there.
WANDERING ARTISTS
You're a creative spirit who wants to learn how to nurture your artist soul in a more mindful, heart-centered way.
Expedition Cost
The Ship of Adventures has sailed for 2017. Enter your email below to receive an Invitation when the Expedition happens again:
---
---
FAQ

---
---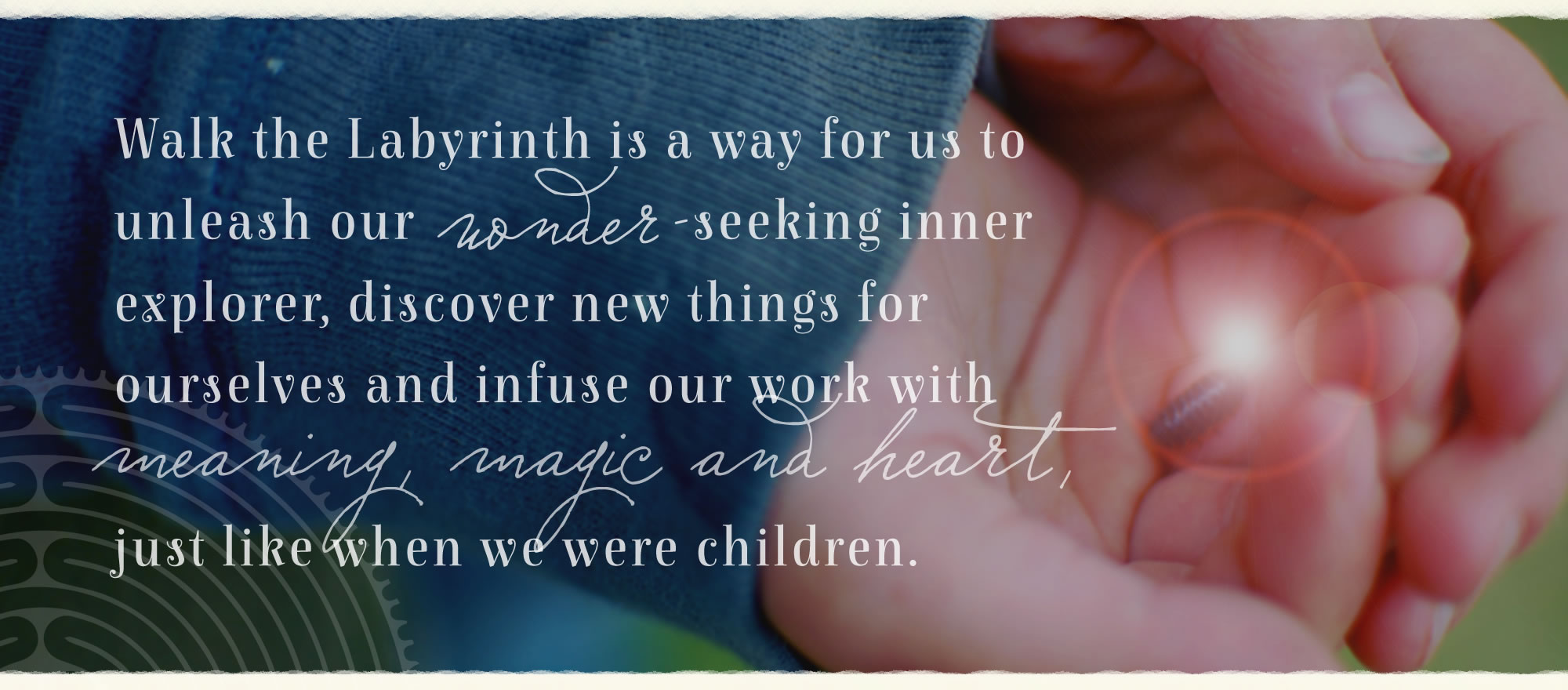 ---
Is it time to finally feel more creatively alive?
Come Walk the Labyrinth with me.
The Ship of Adventures has sailed for 2017.
Enter your email below to receive an Invitation when the Expedition happens again:

---

Quick Guide To The Expedition :
---

Dedicated To
My Mom, my first and best creative mentor,
My Dad, for always believing that the world is my creative oyster,
My Husband, my Always and Forever Adventure Guide,
My Brothers, for all the much-needed tech support.
Friends, loved ones and kindred spirits, for all your enthusiasm and encouragement.